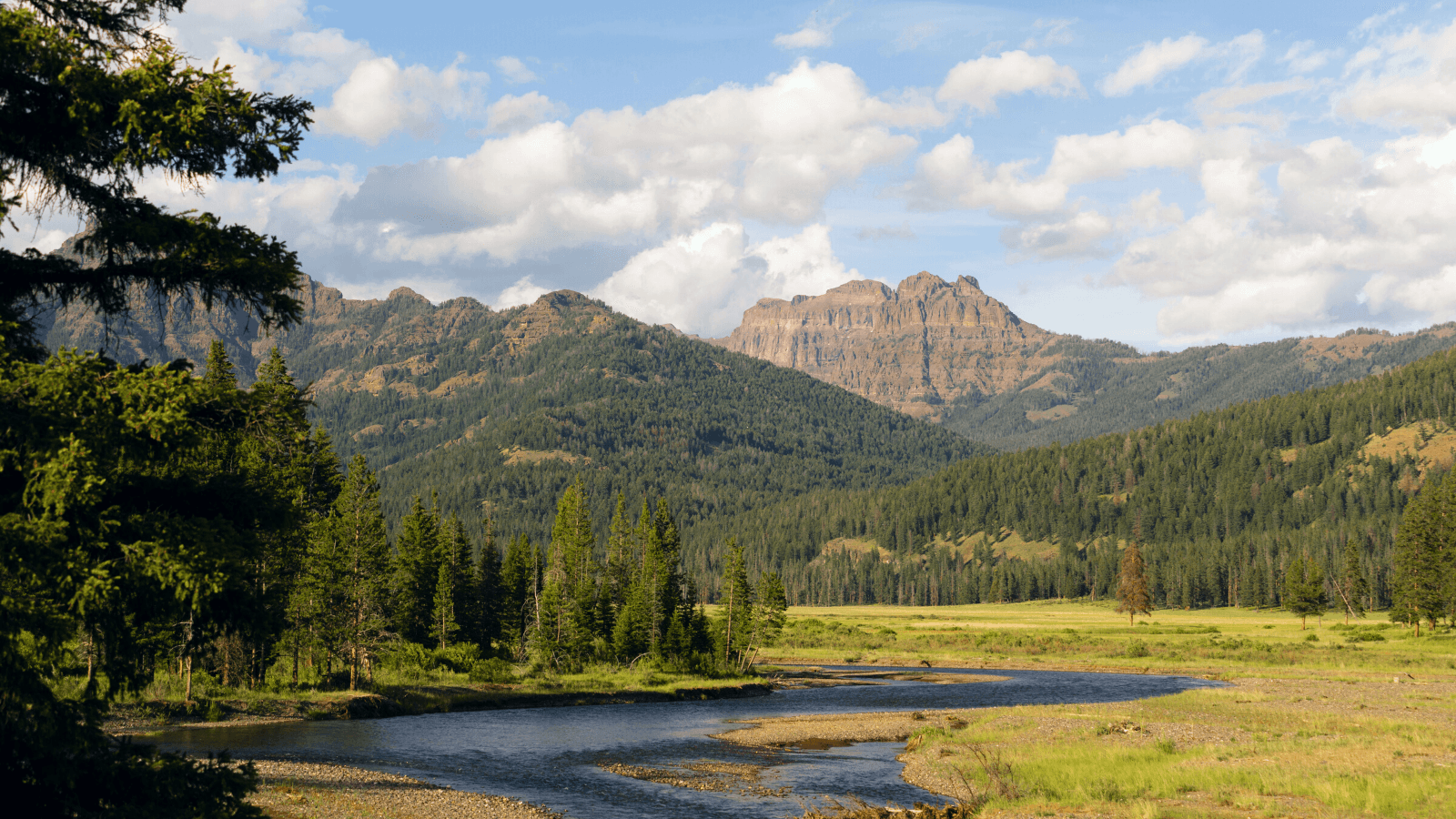 As a kid, I spent days exploring the swamp separating our house from Michigan's Pigeon River. I'd fish the river for suckers and spawning steelhead, build forts with driftwood, and, in the fall, hunt ducks and deer. I experienced those woods as boundless and captivating and teeming with life. Perhaps, then, it was inevitable that a connection to the Creator would grow on the banks of that river. The woods were transformed into a temple filled with God's presence.
For a time, I lost touch with the part of me that came alive in the outdoors. College, marriage, seminary, beginning ordained ministry, having kids—the busyness of life kept me from returning to the woods. Like the boy who seemed to forget about the Giving Tree, I forgot that I needed creation to connect me to the Creator.
In 2019, I was awarded a Lilly Clergy Revitalization Grant. One goal of my sabbatical was to reconnect with creation. I took my son backpacking through a river valley in Yellowstone National Park that most park visitors never see. We camped on a bluff overlooking the river as it snaked its way through the mountains. Purple and yellow flowers bloomed in the meadows at the base of cliffs; cutthroat trout darted over the gravel-bottomed mountain river; a bear sauntered the edge of the water, eating grass. One night, as I listened to the heavy breathing of my son's sleep, I was reminded of the words I had seen earlier that summer printed on a garbage can in the Basilica of St. Francis of Assisi: "Treat the earth well: it was not given to you by your parents, it was loaned to you by your children."
I returned to ministry post-sabbatical with a desire to see our church community become actively involved in creation care. We hosted an EEN luncheon for pastors and ministry leaders so they could hear about the work of the Evangelical Environmental Network and begin brainstorming ideas for how the churches in our city would work together on issues of creation care. It was important to me that this was not just my dream for our congregation, so I invited people from my church who I knew had a passion for creation care to join us. A few months later, we hosted another event for pastors and leaders, forming deeper relationships with churches in our community. It was in that meeting that we were with Creation Care Partners in Indiana.
A small group of people took the reins of our church creation care initiative and formed a team. Creation Care Partners was offering a grant to faith communities for solar panels. Our team investigated the grant, made a proposal to our church leadership, and spear-headed the work to fulfill the application requirements. In late 2021, we were awarded the grant, and in March of 2022, solar panels were installed on our church roof. In one month, those panels have saved more than 2,900 pounds of CO2 emissions, which is the equivalent of having planted 22 trees.
Installing solar panels is wonderful and worth celebrating, but solar panels are not the end goal. The goal is to be better stewards of God's creation. Our creation care team continues to meet. Monthly, they send out an email to the congregation with tips on how to conserve and save energy. The team is also working with a group from another local church to put on a Creation Care Summit where people can come and learn about a wide variety of topics related to stewardship of the earth. Our hope is that we are just beginning the good work that we as humans are called to: to care for and protect creation.
Despite all this activity, I don't believe that good stewardship can simply be reduced to what we do. This work is informed by our faith, yes, but it also forms our faith. My love of the natural world has taught me that creation is a conversation partner. I don't want to overly anthropomorphize the non-human creation, nor do I want to slip into pantheistic notions. I do, however, want to recognize that God meets God's people in the wilderness, on the mountain tops, along the rivers, through the breeze, and in the green pastures. The psalmists frequently looked to creation to understand God's relationship to us and ours to God. Paul recognized that creation was longing for the redemption of all things just as we are. John saw all of creation worshipping the lamb who was slain. We human beings are not distinct from creation, but intimately a part of it. We are creatures, which makes our stewardship of the created world all the more important. Our dominion—the watching over and keeping of—exists within creation as a part of creation. And so, caring for world is not just a mandate given to us, but an opportunity to observe, yet again, God's redemption of all things.
Nate Pyle is an author, blogger and ordained pastor in the Reformed Church in America. In 2015, Nate released his first book, Man Enough: How Jesus Redefines Manhood, with Zondervan. He contributed to Learning Change: Congregational Transformation Fueled by Personal Renewal. Nate's second book, More Than You Can Handle: When Life's Overwhelming Pain Meets God's Overcoming Grace, released in March of 2019 with Zondervan. Currently, Nate serves as the pastor of Christ's Community Church in Fishers, Indiana where he lives with his wife and three children.