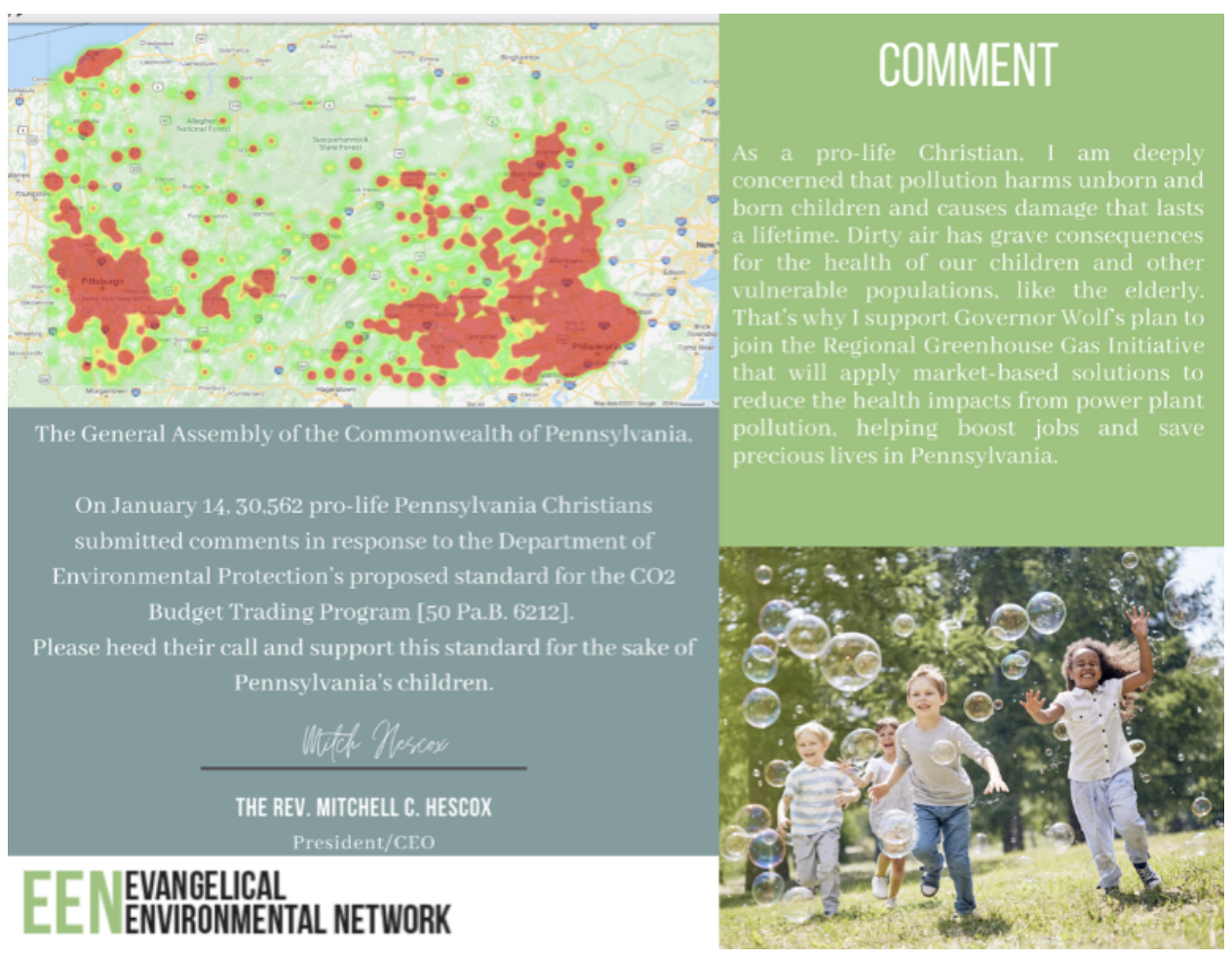 Today, Pennsylvania's Department of Environmental Protection released its CO2 Budget Trading Program Draft Final-Form Rulemaking.
We join the comments of over 30,500 Pennsylvania pro-life Christians who voiced support for the Regional Greenhouse Gas Initiative (RGGI) saying:
"As a pro-life Christian, I am deeply concerned that pollution harms unborn and born children and causes damage that lasts a lifetime. Dirty air has grave consequences for the health of our children and other vulnerable populations, like the elderly. That's why I support Governor Wolf's plan to join the Regional Greenhouse Gas Initiative that will apply market-based solutions to reduce the health impacts from power plant pollution, helping boost jobs and save precious lives in Pennsylvania."
It's time to account for the actual costs of pollution and make producers pay the cost of the trash and toxins they create. Coal-produced electricity costs 14.87 US cents/kWh more than we pay on our home meter and those costs are born in the hearts, lungs, minds, and lives of our children while the companies get the profit.
"By joining RGGI, we can clean up our air, defend our kids' health, create more than 27,000 net jobs, and add $1.9 billion to our commonwealth's economy. The health benefits Pennsylvania will see are enormous: $6.3 billion in health savings, 30,000 fewer hospital visits for children and adults with respiratory illnesses, 45,000 fewer asthma attacks, and 1,000 fewer cases of childhood bronchitis," said the Rev. Mitch Hescox, President/C.E.O. "Coal is not coming back. Words from the United Mine Workers' Document, Preserving Coal Country tells the reality of the energy future in our Commonwealth, 'Change is coming, whether we seek it or not.'"
RGGI revenue could be used to support new jobs and careers for workers who have given so much to keep our lights on, help right the wrongs for so many people of color who have faced up to three times the burden of pollution of white America, and work to promote energy efficiency while initiating a new sustainable energy economy that benefits all Pennsylvanians. Now, we must create jobs that pay a family-supporting wage and give Pennsylvanians the right to abundant life that Jesus promised.