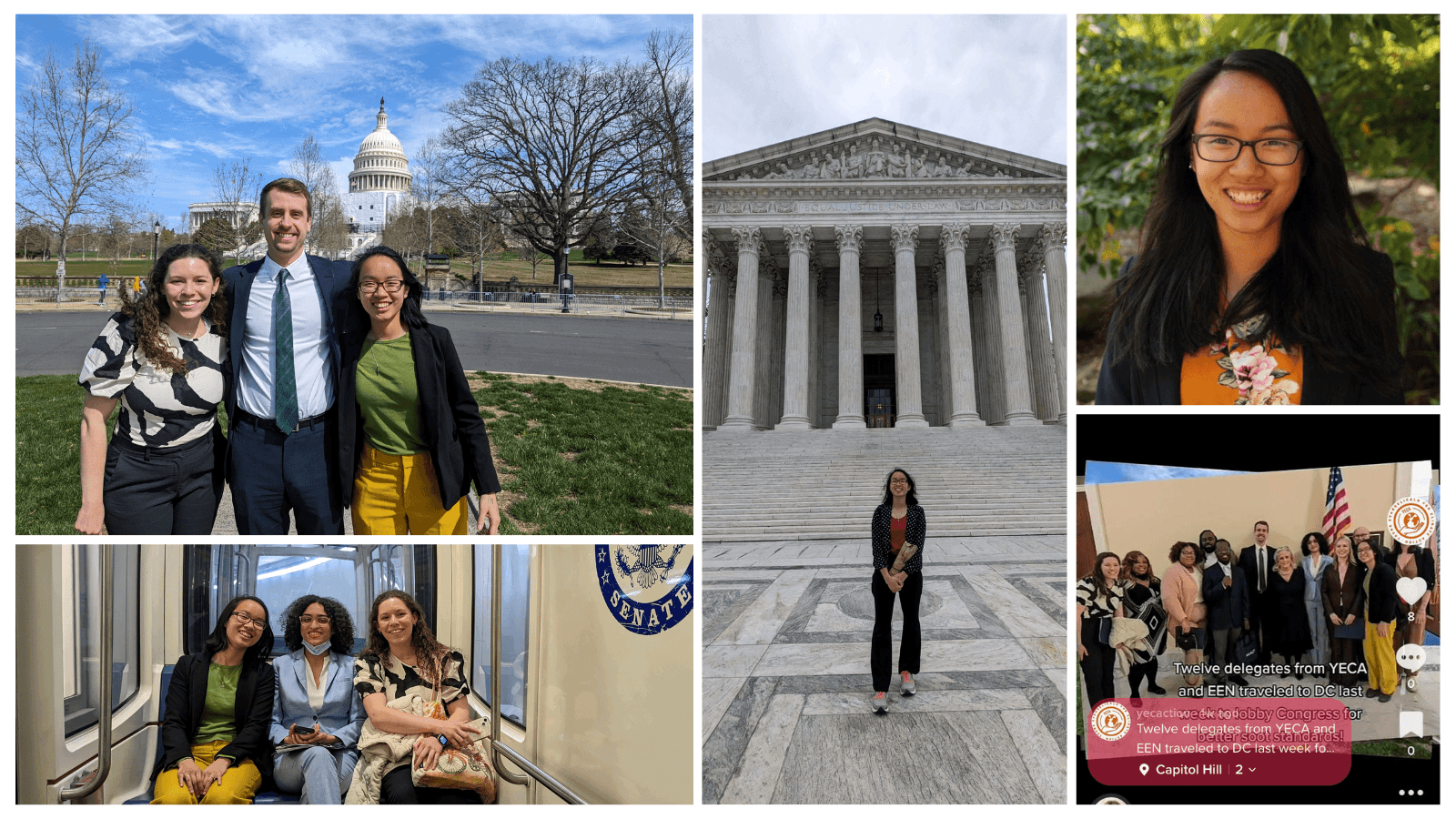 My name is Adelaide Mei, and I had the privilege of working for EEN as a communications intern this past semester. When I started this internship, I had little idea about what communications entailed, nor what working remotely for a Christian nonprofit would look like. I was pleasantly surprised by EEN's lovely staff, whom I got to meet virtually, and also many in person thanks to the D.C. Public Health Lobby Week.
Prior to working for EEN, I had heard quite a bit about creation care as a current student at Calvin University as well as the need for decarbonization as a result of my internship last summer. However, many phrases like "decarbonization," "decoupling," "carbon intensity," and "sustainability" were not very tangible for me and difficult to pinpoint how they applied to me and my life. Working for EEN has solidified for me why we care about pollutants: because they directly affect us and the people around us. I learned that being pro-life means taking care of all stages of life, including speaking out for better air quality.
Communications
Throughout this internship, I learned a plethora of new skills – exploring Canva, learning how to make TikToks, running data analysis, modifying/designing EEN's website, testifying before the EPA, lobbying in D.C., and writing blog posts. Additionally, I was pleasantly surprised to write a Lent Devotion, which I ended up doing late at night in a Super 8 while on spring break.
I really appreciated being able to help start up YECA's TikTok and EEN's Instagram, which we've seen grow throughout the course of this internship. I enjoyed being able to take ownership of updating certain pages on the website and, as I was navigating these pages, to identify portions which I would like to help modify/redesign.
I learned how to make TikToks and designs using Canva. I learned a greater appreciation for the work Lindsay does daily in making the website and social media work seamlessly. I was surprised that making TikToks and designing posts can take a hefty amount of time; I never knew that picking sounds for TikTok or taking videos of myself could be so complicated!
I learned how to work with Firespring, EEN's website builder, and researched to update many of the pages on methane, mercury, and plastic pollution. In doing so, I learned so much more about pollutants and health impacts than I expected. I organized blog posts and even got to write three of my own (including this one)!
Advocacy
At our first intern meeting, when Lindsay mentioned testifying in front of the EPA, I was intimidated, as I never realized that I as a citizen could talk in front of a government agency. Through testifying for stronger methane and soot pollution standards, I learned that I was not only able to speak out for what I believed in, but that this was a unique opportunity as an American that I should take advantage of.
When testifying in front of the EPA, we normally get a list of who will be speaking during a two-hour window, but since I did not know exactly when my name would be called, I sat through many testimonies before my time slot. This turned out to be a wonderful opportunity to hear passionate, personal testimonies from Americans of all ages and backgrounds about how soot pollution had affected their health and who were calling on the EPA for stronger National Ambient Air Quality Standards. Seeing the unity of so many Americans was a powerful experience.
Getting to speak with our representatives in D.C. for the Public Health Lobby was another wonderful opportunity to talk about what matters to me, especially as I was learning a lot more about the health impacts of pollutants throughout this internship. I was also able to meet many of EEN's staff in person and get to know them as people as we worked together in public advocacy.
Final Thoughts
This internship has helped me better appreciate the intersection between science, advocacy, and my faith. Through learning about what EEN has done for the Mercury and Air Toxics Standards in the past and what we continue to advocate for, it is really exciting to see that this makes a difference. In the future, I anticipate that having worked for EEN will grant me a better perspective on policy making and what is involved in a nonprofit.
Thank you, EEN, for welcoming me so well. Thank you, Lindsay, for your daily hard work and for this wonderful opportunity to intern for EEN.