EEN Book Club Fall 2023: Following Jesus in a Warming World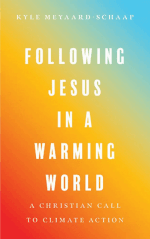 EEN's Beth Bond Memorial Book Club returns this fall to read and discuss Following Jesus in a Warming World by Rev. Kyle Meyaard-Schaap! This season we will meet on Thursday evenings from 7:00 – 8:00 pm ET beginning September 7 and will conclude on October 12 with a conversation with Kyle himself.
Registration for this season of Book Club has closed, but you can follow along with us here as we upload recordings of our weekly meetings and by taking advantage of our virtual discussion guide below.
Have you ever looked at the effects of climate change and the apathy of so many around you and wondered, "What are we missing here?"

Climate activist Kyle Meyaard-Schaap understands this feeling from personal experience. But in his years of speaking to and equipping Christians to work for climate action, he's seen the trend begin to shift. More and more young Christians are waking up to the realities of climate change. They want to help, but they're not sure how.

Through stories from the field, theological and scriptural exploration, and practical advice, Meyaard-Schaap offers hope to Christians paralyzed by the scale of the crisis, helping us turn our paralysis into meaningful action. Following Jesus in a Warming World is a field guide for Christian climate action—one grounded not in a sense of guilt or drudgery, but in the joy of caring for creation.

Rev. Kyle Meyaard-Schaap holds an undergraduate degree in religious studies from Calvin University (B.A. '12), a Master of Divinity degree from Western Theological Seminary (M.Div. '16), and is ordained in the Christian Reformed Church in North America (CRCNA). For the last ten years, he has educated and mobilized Christians around the world to address the climate crisis as an act of discipleship and neighbor-love.

Kyle has been named to Midwest Energy Group's 40 Under 40, the American Conservation Coalition's 30 Under 30, and the Grist 50 Fixers cohorts for his work on climate change education and advocacy. In 2020, he was named a Yale Public Voices Fellow on the Climate Crisis. His work has been featured in national and international news outlets such as PBS, NPR, CNN, NBC News, New York Times, Reuters, and U.S. News and World Report. His first book, Following Jesus in a Warming World: A Christian Call to Climate Action, was published by InterVarsity Press in February 2023.

Kyle is married to Allison and lives in Grand Rapids, Michigan with their two sons.