EEN Summer of Action 2021
We are facing the greatest opportunity in a generation to invest in a flourishing future for all. The current infrastructure negotiations have the potential to unlock historic investment in clean energy technology; to electrify the transportation sector; to transition to clean electricity generation; to defend the health of vulnerable populations; and to create millions of sustainable, family-supporting jobs in the process. 
The EEN Summer of Action is an invitation for you to turn this opportunity into reality by advocating for a final infrastructure plan that will protect the health of our kids and frontline communities, invest in clean energy jobs, and help us avert the worst consequences of a changing climate.
Over the course of 8 weeks, you will receive training on congressional outreach, writing and pitching op-eds and letters to the editor, and social media advocacy. Coaching huddles and workshops will be offered throughout the summer to support you as you:
Schedule and hold at least one meeting with a target lawmaker
Work to write and place an op-ed/letter to the editor in a local outlet
Amplify advocacy opportunities on your personal social media channels
This is the moment we've been working toward. We are the ones we've been waiting for. We must rise to the challenge for the glory of God and for the sake of all his beloved ones.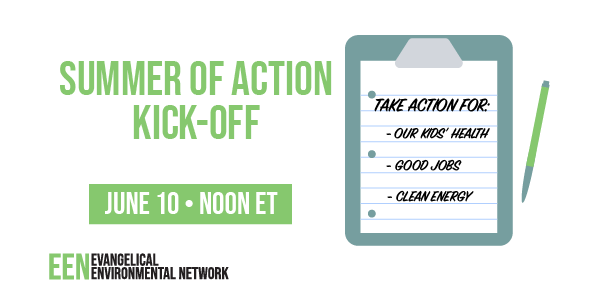 JOIN US FOR OUR SUMMER OF ACTION KICK-OFF
Summer of Action will kick off on June 10 at 12pm ET over Zoom. Sign up below to register!