The Rev. Mitchell C. Hescox, President Emeritus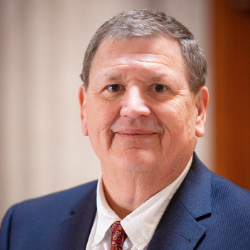 The Rev. Mitchell C. Hescox is the President Emeritus of the Evangelical Environmental Network and served as EEN's President and CEO for 15 years. 
Rev. Hescox co-authored, Caring for Creation: The Evangelical Guide To Climate Change and a Healthy Environment (Bethany House) with nationally known meteorologist, Paul Douglas, contributed to Sacred Acts: How Churches are working together to Protect Earth's Climate (New Society Publishers) and Health of People, Health of Planet, Our Responsibility (Springer Publishing). He has testified before Congress, spoke at the White House, presented at the Vatican, and The Council for Foreign Relations. Rev. Hescox has appeared on CNN, NPR, PRI, MSNBC, BBC, and numerous radio programs both Christian and secular.  
Rev. Hescox has served as a member of the National Association of Evangelicals' Board of Directors, EPA's Clean Air Act Advisory Committee, The Pennsylvania Department of Environmental Protection's Citizen Advisory Council, and the Board of Reference for the Center for Sustainable Climate Solutions. He also leads a small group at his local Pennsylvania church.
Prior to joining EEN, Mitch pastored a local church for 18 years, and before the call to ordained ministry served the coal and utility industry as Director, Fuel Systems for Allis Mineral Systems (York, PA). He is married to Clare with four grown children and seven grandchildren.