The Rev. Kyle Meyaard-Schaap, National Organizer and Spokesperson for Young Evangelicals for Climate Action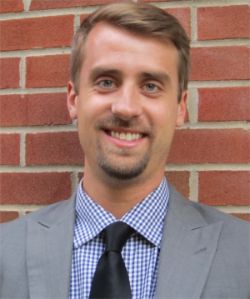 Kyle serves as the National Organizer and Spokesperson for YECA and has been a steering committee member since 2013. Kyle holds an undergraduate degree in religious studies from Calvin College (B.A. '12) and a masters of divinity degree from Western Theological Seminary (M.Div. '16).  Before coming on staff at YECA, Kyle served for four years as the Creation Care Coordinator at the  Office of Social Justice for the Christian Reformed Church in North America, where he worked to  educate and equip individuals and congregations to learn and act at the intersection of creation care  and Christian faith. Much of his professional experience has involved the integration of theology,  science, and action toward a deeper awareness of our Christian responsibility to care for God's earth  and to love our neighbors, both at home and around the world.
Kyle has received numerous awards both as a student and for his work, including being named in  2015 to Midwest Energy Group's inaugural 40 Under 40 cohort for his work on climate change  education and  advocacy. He is married to Allison and resides in Ann Arbor, MI. In his free time, Kyle  enjoys cooking, reading, and spending time outside in God's beautiful creation.
-Contact Kyle at Kyle@yecaction.org
-Follow Kyle on Twitter 
-View Kyle's full professional profile on LinkedIn