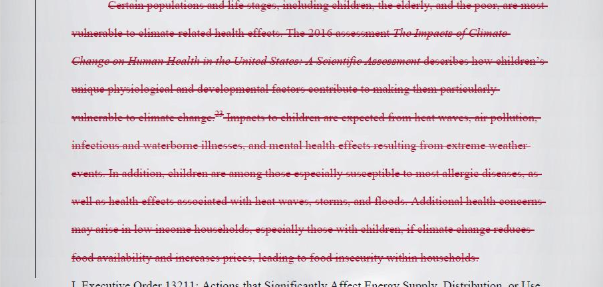 The Trump Administration's attacks on the health and welfare of children just keep coming, from the rollback of mercury protections to the now aborted policy of separating children from their parents at the border.
The latest example to be uncovered, this time by E&E News, involves the White House deleting language (see picture, below) about the impacts of climate change on children and other vulnerable groups. This was done in a proposed rule change by the Trump Administration Environmental Protection Agency concerning the most potent and damaging of greenhouse gases by far, hydrofluorocarbons. That they are trying to weaken another important safeguard is bad enough. But to eliminate children from consideration?
EPA's original language noted that "children's unique physiological and developmental factors contribute to making them particularly vulnerable to climate change." It went on to say that:
"Impacts to children are expected from heat waves, air pollution, infectious and waterborne illnesses, and mental health effects resulting from extreme weather events. In addition, children are among those especially susceptible to most allergic diseases, as well as health effects associated with heat waves, storms and floods."
Don't like the truth? That's easy. Just simply erase the truth. Don't want to care what happens to children? That's easy. Just simply erase children and other vulnerable populations from consideration. Erase those without power to defend themselves. If you don't have power and money, you literally don't count.
This is, of course, the opposite of what God does in the Bible; it is the opposite of Jesus' life and ministry. God is on the side of the vulnerable and those without power precisely because they are vulnerable. Why? That's easy. Because God loves them.
To try to erase those God loves? Not gonna happen.